Posts for tag: sealants
By Knutson Family Dentistry
August 20, 2020
Dental cavities are a common condition that affects adults and children alike. If left untreated, they can result in infections, pain, and negatively impact your regular oral functions. Aside from a great oral care routine, a healthy diet, and routine dental visits, one of the most effective ways to prevent the development of cavities is through the use of dental sealants.
Here at Knutson Family Dentistry in Vermillion, SD, our general dentists, Dr. Matthew Knutson, Dr. Richard Knutson, and Dr. Brandon Jensen, frequently use dental sealants for protecting our patients' teeth regardless of their age.
What Exactly are Dental Sealants?
Dental sealants are basically ultra-slim plastic coatings that are specifically made to protect your teeth's chewing surface. They are often painted on the molars and premolars. The sealant will immediately adhere to the grooves and depressions on the top surfaces of your teeth, creating a shield that keeps cavities away. Since the chewing surfaces of your teeth have nooks and crevices, brushing and flossing can only go as far as effectively cleaning the smooth surfaces of your teeth.
What Benefits Do Dental Sealants Offer?
Besides the fact that they can prevent the development of tooth decay, they can also help you with the following:
Save money. Treatment for tooth decay could be costly, depending on its severity. Getting dental sealants is much more affordable than having to undergo reparative treatments in the future.
Improvements to your oral health. Tooth decay alone can cause serious oral health complications but dental sealants can effectively help uphold the health of your teeth and gums.
Save time. Sealants require only a single dental visit. Without them, you may develop tooth decay, which could then lead to serious oral health issues.
How is Dental Sealant Applied?
The application of a dental sealant is an easy and painless procedure. Dental sealant application typically entails the following steps:
The surfaces of the teeth that require sealant are cleaned thoroughly.
Every tooth will be dried and then cotton will be placed around them to retain their dryness.
An acidic solution is then applied to roughen the teeth's chewing surfaces so that the sealant bonds with them well.
After a few minutes, your teeth will be rinsed and then dried again.
The sealant will then be applied to the teeth and a curing light might be utilized to cure the dental sealant.
How Long Do Dental Sealants Last?
They could safeguard your teeth from cavities for up to a year. However, they still require evaluation for wearing or chipping during your routine visits to your general dentist in Vermillion, SD. Your dentist will replace your sealants if needed.
Interested in Dental Sealants? Call Us
Book an appointment with your general dentist here at Knutson Family Dentistry in Vermillion, SD, Dr. Matthew Knutson, Dr. Richard Knutson, or Dr. Brandon Jensen, by dialing (605) 857-8008.
By Knutson Family Dentistry
October 17, 2012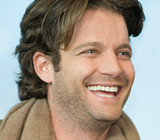 Prior to his first appearance on the Oprah Winfrey show, interior designer Nate Berkus knew immediately that he was not there to pick sofa colors and paint chips. Instead, he was there to lift people up through the way they live. And boy, did he do just that. Over the next eight years, Berkus completed 127 makeovers and became one of America's most beloved go-to guys for inspiration on the latest design trends.
During a recent interview with Dear Doctor magazine, Nate discussed his career as well as his oral healthcare. He credits his dazzling all-natural smile — no cosmetic dentistry here — to the treatments he received as a child from his dentist. "I'm grateful for having been given fluoride treatments and sealants as a child." He then added that, "healthy habits should start at a young age." Nate is still in the habit of brushing his teeth two or three times a day. As for flossing his teeth, he credits his dentist with the advice he still follows: "Floss the ones you want to keep."
Many parents and caregivers may not be aware of the important role fluoride treatments play in protecting children's teeth. Fluoride has the unique ability to strengthen tooth enamel, the hardest substance found in nature. Depending on where you live, you may have fluoridated tap water. You may also have fluoride in your toothpaste, depending on the brand you use. Both of these are beneficial, but sometimes we recommend additional fluoride treatments based on the specific needs of your children. Why? The concentrations of the topical fluorides we typically apply are much higher than what is found in toothpastes, and we apply them for a longer period of time. For example, we often apply them for four minutes per treatment session.
To learn more about fluoride treatments, contact us today to schedule an appointment so that we can conduct a thorough examination, discuss any questions you have as well as what treatment options will be best for you or your child. Or to learn more about fluoride treatments now, you can continue reading the Dear Doctor magazine article "Topical Fluoride." And to read the entire interview with Nate Berkus, please see the Dear Doctor magazine article "Nate Berkus."