Posts for tag: root canal
By Knutson Family Dentistry
May 22, 2018
Root canals aren't just designed to save a tooth from extraction; they also relieve pain and stop infection in its tracks. By removing the
inside of teeth that have been exposed to damage or decay, Dr. Matthew Knutson, Dr. Richard Knutson, and Dr. Troy Larsen, your general dentists in Vermillion, SD, are helping you maintain good dental and physical health. If you've been having some dental problems but aren't sure if it warrants a trip to the dentist, here are some signs that can help you make a decision.
Pain and sensitivity
The earliest indication that a tooth may be in trouble, to both you and your Vermillion general dentists, is a long-lasting tingling feeling after you drink or eat something hot or cold. Some patients even report feeling this sensitivity after brushing or even inhaling cold air outdoors. The reason for this uncomfortable sensation is due to the nerves underneath the weakened enamel being exposed to stimuli that they're normally insulated against. Breakage in a tooth can also produce a classic toothache, most often when you're chewing or biting down. Functional teeth keep the nerves inside them protected from what's happening around them, but a cracked tooth shifts unnaturally when it comes into contact with another tooth, pressing against the inner tissues and causing considerable pain.
Abscess
If the infection inside your tooth goes untreated, it will attempt to "escape" its confines by creating an abscess. These pockets of infection, made up of dead white blood cells and toxins, may develop in the jawbone at the tip of the tooth's root, or you may notice a blister-like spot that's formed on your gums near the affected tooth. You may have the associated pain and sensitivity mentioned above, as well as a fever. Development of an abscess is a sure sign that you need to contact your Vermillion, SD, general dentist immediately.
To schedule an appointment at Knutson Family Dentistry in Vermillion, SD, contact our office today!
By Knutson Family Dentistry
October 01, 2012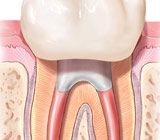 For generations, root canal treatment has received a bad rap. Thought to cause pain, it is actually just the reverse. The truth is that root canal treatment does not cause pain but actually relieves it. Not only does root canal treatment relieve pain, it literally saves the affected tooth or teeth from further damage and/or loss.
To get started, let's define this procedure. A root canal treatment is a procedure in which the diseased pulpal tissue in the root canals are removed, disinfected, cleaned, and sealed. This is usually necessary following inflammation and infection of the pulp — which is the cause of your pain — as a result of severe decay or in a very heavily filled or damaged tooth.
However, if left untreated, an infected tooth can spread into the bone and even cause an abscess — and that can be more painful and impact your overall general health. The good news is that once a tooth has had the appropriate endodontic treatment ("endo" – inside; "dont" – tooth) followed by a proper restoration, it can last as long as your other teeth. The key is to take proper care of your teeth, have routine cleanings, and visit our offices as soon as you feel you have a problem with a tooth.
If you are having pain from a tooth or several teeth, you may need a root canal treatment. Please contact us today to schedule an appointment before it gets worse. To learn more about the signs, symptoms, and treatment for a root canal, read the article "Common Concerns About Root Canal Treatment."